Did you know?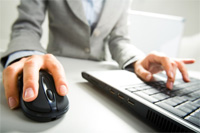 Did you know that EZ Messenger offers Electronic Billing Statements?
In conjunction with our efforts to become a more Green company, EZ offers electronic billing statements, or e-Statements, to assist in the reduction of paper usage in all of our clients office's!
EZ's e-Statement program offers many benefits including:
– Receive statements faster and safer than through regular mail.
– View your statements in an easy-to-read PDF format or export into Excel format.
– Ability to print your statement if ever a paper copy is needed.
– e-Statements can be saved to a CD-Rom or to your computer's hard drive for future reference.
– Save time and reduce paper clutter.
To join or receive more information regarding EZ's e-Statement program, please contact James Racina at (520) 623-8436 or via email at jracina@ezmessenger.com.
---
Our vehicles are miles ahead.
EZ Messenger is a "Vendor of Choice" for Vehicle Testing by the U.S. Department of Energy
EZ Messenger has been selected by the U.S. Department of Energy to assist in the testing and utilization of all types of environmentally sensitive vehicles.  We have participated with the DOE since 2011 and as of today have approximately 80 environmentally sensitive vehicles in our fleet.  We have begun working with the Department of Energy and their third-party provider of vehicles to provide vehicles to our process servers covering metropolitan areas around the country. We are very excited about the opportunity to increase our coverage in nationwide and provide additional vehicle testing for our partners in this program.